Just In Case You Care
This project included a book, an installation, a video and an event
Shown as part of
Young London at V22,
September 2013
How To Feel Better, A Display (Just in Case You Care)
Installation, 2013
Just In Case You Care, The Transcripts of a Youtube Channel
Please get in touch if you would like a copy of the transcripts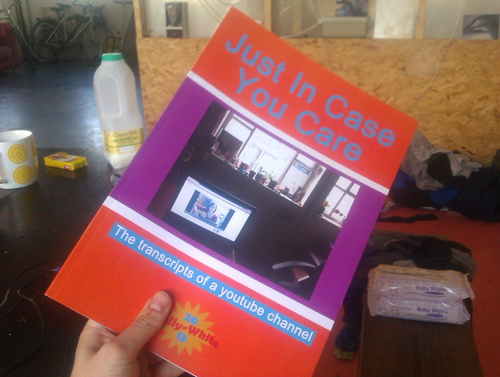 These are the transcripts of a collaborative youtube channel. The transcripts start from the first video that was uploaded by an American student, Elizabeth, in October 2011 and finish with the last video that was posted, on the 13th April 2012. The transcripts show the story of friends Elizabeth, Zabet, Hannah and Sadie over those six months.
I started following the channel in 2011 as the videos were first being made, up until the girls stopped uploading. During that time it became 2012, the year of the apocalypse, and I turned 27. I guess this a document of so many things, including where I was when I watched each video.
I have never met the girls in these videos, but they have kindly given their permission for the production of this book.
One Night Only Event w/Paul Kneale, 25 October 2013
Lead Pipe, Tina, Goth Tech, zines, noodles, bubble tea, videos @V22